Lick Mats
LickiMat Splash with Suction Cap the Bath-time Assistant!
We're making bath time fun again! Introducing the LickiMat Splash!
A new addition to our range of Lickimat's is the Splash. If you've had trouble keeping your dog occupied or even still while in the bath the Lickimat Splash is for you!
Like the original Lickimat's, simply spread your dogs favourite treat or spread over the Lickimat Splash and plush the Lickimat onto the bath area surface. The suction cap allows the Lickimat Splash to stick to any hard surface like tiles, glass and laminates.
The Lickimat Splash can also be used at the groomers and on vet visits to make them fun again! Encourage your dog to become naturally calm and focus on the LickiMat Splash.
Can't decide which Lickimat is best for your dog? Check out our guide here - Which Lickimat is right for my dog?
Features
ENCOURAGES CALM BEHAVIOUR - Natural medical free way to promote calm behaviour in your pet while home alone or during stressful times, like storms. Repetitive licking is soothing for your pet, releasing calming the hormone cortisol into the body
MINIMAL FOOD REQUIRED - No overfeeding because Lickimat makes a small tasty treat last longer. Licking enhances the sense of taste, allowing dogs to enjoy just a small amount of food
HEALTHY MOUTH - FRESH BREATH - Helps promote fresh breath by scraping off bacteria and undigested food particles from the tongue
STIMULATES SALIVA - Saliva production can aid digestion as it contains enzymes like Amylase
SAFE FOR YOUR DOG - Made from non-toxic food grade TPR, you may see others in stores designed for the home kitchen but are these plastics safe for your dog to be licking.
DISHWASHER SAFE - Lickimats are now dishwasher safe. 
Colours
Size
For fun pet interaction other designs are available. Check out our full range of Lickimats here.
---
Customer Reviews
03/07/2021
Aleisha M.

Australia
I recommend this product
Amazing reward to make bath time fun
It's great! We use it for my Charlie to keep him occupied during the 10 cold minutes he has to keep his medicated shampoo on at bath time. Works a treat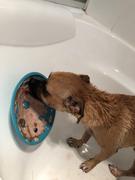 10/12/2020
MONICA W.

Australia
I recommend this product
Dozer loves his lickimat
Yeah he lives it and it is the funniest thing watching them goid window suction too
05/04/2020
Basil A.

Australia
I recommend this product
LickiMat Splash
Thank you Woof 'n' Wag for another great product! Our boys have enjoyed having a tasty treat while having a bath. We have also used it as a treat in the evening just like the LickiMats