LickiMat | Lick Mats for Dogs Australia
LickiMat Playdate Tuff - Boredom Buster
Stop your dog's boredom with the entertaining LickiMat Playdate Tuff!
Unfortunately, we as dog owners cant spent every hour of the day with our dogs, we lead busy lives and this often results in our dogs getting bored during the day. Then what happens (usually) destruction! Chewing, holes in the garden and it goes on. Introducing the LickiMat, an innovative new way to keep your dog stimulated and entertained. 

Lickimat™ Boredom Busters for dogs are designed to enhance your dog's environment as well as benefiting their health.  Lickimats are designed as tasty boredom busters for your dog. By spreading your pet's favourite soft treat over the surface, you create a tasty fun game with them having seek out every morsel with their tongue.
Lickimat's can also be frozen in summer for refreshing longer-lasting entertainment.
The Lickimat Playdate Delux has a raised squares field design, making it perfect for thick, sticky treats.
Can't decide which Lickimat is best for your dog? Check out our guide here - Which Lickimat is right for my dog?
Features
ENCOURAGES CALM BEHAVIOUR - Natural medical free way to promote calm behaviour in your pet while home alone or during stressful times, like storms. Repetitive licking is soothing for your pet, releasing calming the hormone cortisol into the body
MINIMAL FOOD REQUIRED - No overfeeding because Lickimat makes a small tasty treat last longer. Licking enhances the sense of taste, allowing dogs to enjoy just a small amount of food
FREEZER SAFE - Freeze with your dogs favourite lickimat topping to extend treat time. 
HEALTHY MOUTH - FRESH BREATH - Helps promote fresh breath by scraping off bacteria and undigested food particles from the tongue
STIMULATES SALIVA - Saliva production can aid digestion as it contains enzymes like Amylase
SAFE FOR YOUR DOG - Made from non-toxic food grade TPR, you may see others in stores designed for the home kitchen but are these plastics safe for your dog to be licking.
DISHWASHER SAFE - The deluxe versions of all Lickimats are now dishwasher safe. 
Colours
Red
Turquoise
Orange
Green
Size
For fun pet interaction other designs are available. Increase difficulty with the Lickimat Buddy Tuff. 
---
Customer Reviews
09/24/2020
Kym J.
Australia
I recommend this product
Licki mat
It has been the best thing ever for my dog Zed.. he has been diagnosed with brain tumors and also has bulging discs in his back being 14 years old.. due to his minimal activity I have found this to be his ritual routine daily spread with some peanut butter.. he licks for hours and kilos forward daily to it.. have bought a few so I can give to my family to enjoy the benefits of this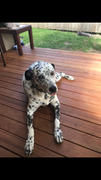 08/14/2020
Tayla S.
Australia
08/05/2020
Collette A.
Australia
I recommend this product
They love it
My dogs...and cats...love the LickiMats. I put 2 down every morning and by the time I get home...they are licked clean. It has helped one of my older dogs lick her paws much less. Happy with that...
07/29/2020
Annette H.
Australia
I recommend this product
LickiMat
This is for a new puppy.