Zippy Paws
Zippy Paws Happy Bowl Pineapple Slow Feeder Dog Bowl
Send your dog to a tropical paradise with the ZippyPaws Happy Bowl Pineapple slow feed bowl! 
Fun, quirky, tropical, and bright, the Happy Bowl Pineapple is a slow-feeding bowl has multiple hollowed-out sections to mimic the skin of a pineapple. These grooves allow you to put only a small amount of food inside each, or you can simply use a specific number of these square sections to control your pet's diet.
Did you know a slow feed dog bowl can help your dog eat up to 10 times slower! By eating slower, you reduce the risk of bloat in your dog, belching and choking, also your dog having uncomfortable digestive issues.
The Zippy Paws Happy Bowl Pineapple holds up to 4 cups of dry dog food, and is suitable for both dry and raw fed dogs. 
Please note: - This bowl is 6cm tall, short nose breeds such as pugs or bulldogs may have trouble using this bowl. We recommend the SloDog Feeding Plate for these breeds.
Features
SLOW FEEDER BOWL - Slow your dog down to reduce the risk of bloat, 

forces your dog to take their time eating 

NON-SLIP - Non-slip base keeps the bowl in place
DRY OR RAW - 

Works with dry, cooked or raw food, or a combination

HOLDS - Up to 4 cups dry dog food
DISHWASHER SAFE - For easy clean
BPA + PHTHALATE FREE
Colour
Size
Approx. - 35.5 x 23 x 6cm
---
Customer Reviews
08/28/2021
Charlotte O.

Australia
I recommend this product
Bear's Bowl
I am pretty confused why mum and dad would want to slow my hoovering eating habits down. But mum and dad seem extremely impressed with my new bowl and tell me I'm the best boy for slowing down. And I haven't told them, but I think the pineapple is pretty cool. Thank you from Bear and his mum and dad x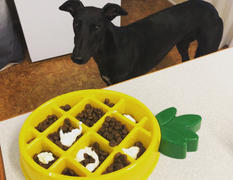 That's a good boy bear, slowing down your eating is super important so you stay happy and healthy! And even better you can eat out of a super cool pineapple!